1st Fall Harvest at Rose Avenue Urban Farm
After much development and hard work from the community since early spring, the Rose Avenue Urban Farm is finally having its first harvest for this fall season! The date is set for Saturday, October 21st at 12pm-4pm.
Everyone is welcome to attend, and we are looking for volunteers to assist us with harvesting and the servicing on that day. Please click on this link to register: Volunteer Registration; and follow our ServeJC and social media handles in order to stay updated! All can be found on our Linktree: RAUF Linktree
We have grown a variety of crops such as corn, basil, peppers, and much more. Public schools in the neighborhood such as PS2o are being invited in order to receive free planting kits from youth organization Plants Enthusiasts Association, where refugee groups One Love, One World and the International Rescue Committee will be assisting us as volunteers. Aiding us in our environmental sustainbility initiative, Jelly's Corner will also be at the harvest and create new products out of recyclable material. Last but not least, the McGreen Team, composed of McNair Academic students who have volunteered at the farm every Saturday over the summer, will also continue assisting us on this day. We thank all of these organizations and the entire community for making all of this possible, and we hope to see you there!!!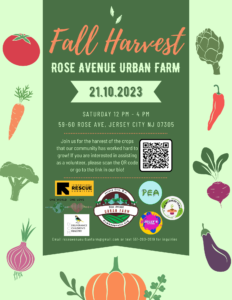 When: Saturday, October 21st from 12pm-4pm
Where: Rose Avenue Urban Farm, 59-60 Rose Avenue, Jersey City, NJ 07306
What: First fall harvest at the farm and volunteering alongside our partnered organizations
Who can attend?: Everyone is welcome to attend! If you are volunteering, please sign up on ServeJC: Volunteer Registration
Thank you so much for all of your support, and we hope to see you!