Second Annual Jersey City Minority Freedom Scholarship!!!
DCM is announcing its Second Annual Jersey City Minority Freedom Scholarship!!!
Requirements:
250-500 word essay; Microsoft Word (.docx) or PDF; double spaced, 12 pt. Times New Roman font

Must be written in English with proper grammar and spelling not to exceed the maximum word count

College/ trade school acceptance letter or proof that you have submitted to schools and are awaiting final decisions
Judging Criteria:
Judging will be based on the clearness and clarity of this year's chosen topic. Judges will not be able to see the names of submitted applicants. Each application submitted will be assigned an applicant ID to ensure anonymity and an unbiased judging system. The finalists may be contacted to answer additional questions. Do not submit work that you have previously submitted to other contests. Please note that any sign of plagiarism will automatically disqualify a contestant. Not abiding by the scholarship's requirements will also disqualify a contestant. Late submissions will not be considered.
Due Date:
May 1st by 11:59 PM via email to [email protected] with the subject line heading: Academic Scholarship 2023. Or fill out the Google Form here.
Scholarship Award:
6 winners, each awarded $1,000 via check made out to the recipient's name.
The essay should answer the following questions regarding community and diversity:
How can different cultures create a community? 

How can we all find a sense of belonging?

What does belonging mean to you?

How can you, as an individual, get involved in civic activities to promote diversity and inclusion in your community?
Winners will be announced by May 15th, 2023 and be presented with their check during Deliverance Children's Ministry's Award Dinner Ceremony on Thursday, June 1st, 2023.
Award Dinner Ceremony
Date: June 1st, 2023
When: 6-9 PM
Location: The Chandelier Catering, 1081 Broadway, Bayonne, NJ 07002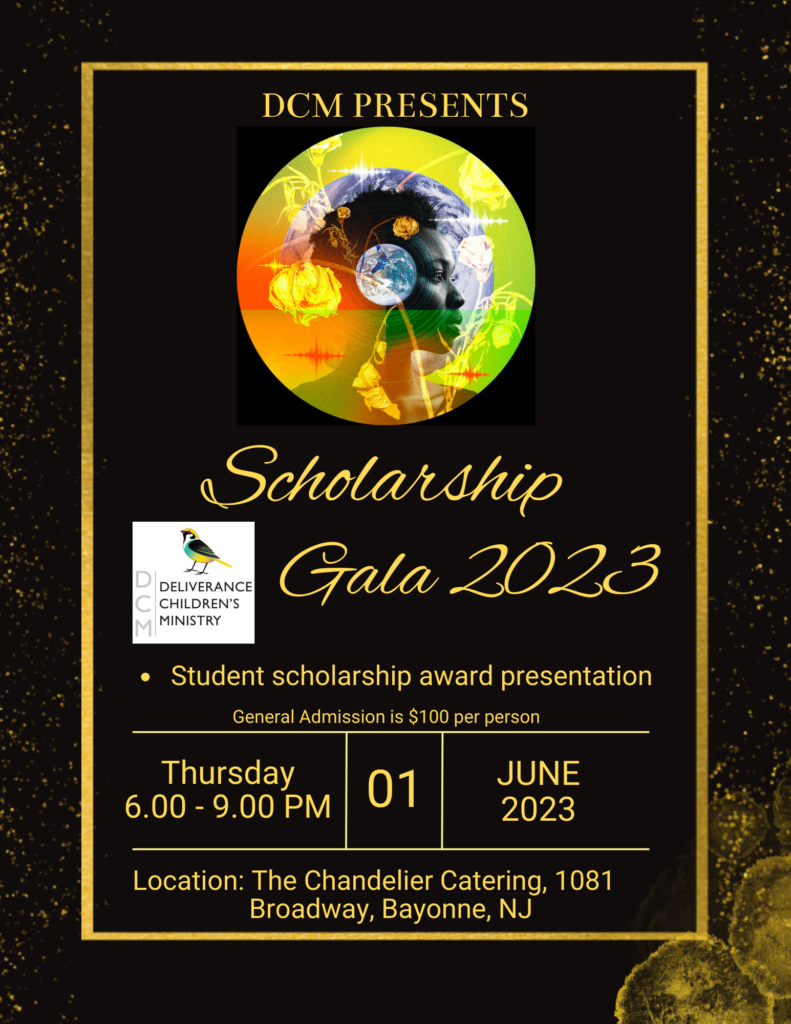 Publicity:
By accepting a scholarship prize, the scholarship prize recipients will be asked to use his or her name, voice, and/or likeness in any and all media, worldwide, for the purpose of advertising and promoting the website, the sponsors, the scholarship, or any other promotion or contest without any compensation.
Award recipient responsibilities: Winners will receive $1000 each in their name, using an honor system. The award is to be used for the purpose of helping each recipient with expenses associated with their higher education pursuits. Recipients are required to submit a report by March 1st, 2023 detailing how the award benefited them during their first year of college. Recipients who submit the report by the March 1st deadline will receive an additional $500 for their following year's studies and will present the 2023 award recipients with their scholarship award at the 2023 award ceremony.
https://docs.google.com/forms/d/e/1FAIpQLSc2CyJIDhCI5GsSWxtO7HN3uiUyN7H-omqekUISQBSW70_kIw/viewform